Lois Lane
Biographical information
Name

Lois Joanne Lane Kent

Born

September 11, 1977

Birthplace

U.S Army Hospital (Outside Wiesbaden, Germany)

Aliases/Nicknames

Mrs. Superman, Lois Lane-Kent, Lois Kent, Superwoman, The Cat, Stiletto, Miss Henkel, Miss Andrews, Mrs. Moffatt, Priscilla Rhodes, Rama, Kay Andrews, Miss Tracy, Sheila Dexter

Nicknames

Lo Lo, The Witch Of Metropolis, Krypton Girl, The Leopard Girl

Physical description
Species
Gender
Height

5'7"

Hair Color

Dark Brown

Eye Color

Green

Family information
Family

Clark Kent (husband)
Samuel Lane (father)
Elinore Lane (mother)
Lucy Lane (sister)
Chloe Sullivan (cousin)
Martha Kent (mother-in-law)
Jonathan Kent (father-in-law)
Kara Zor-El (cousin by marriage)

Statistical information
Citizenship

Occupation

Journalist for the Daily Planet

Education

College Graduate
"I'm a reporter. Asking questions is in my blood."
―Lois Lane
Lois Lane was a journalist who worked for the Daily Planet.
Biography
Early life
Lois Lane was born on September 11, 1978Wiesbaden, Germany to General Samuel Lane and his wife Ella.
in a U.S Army Hospital outside of
Lois spent her formative years as an army brat, following her career military father around the world, including Canada. After settling in Seattle, Washington when she thirteen, Lane's parents welcomed another child into the world; her younger sister, Lucy.
Personality and traits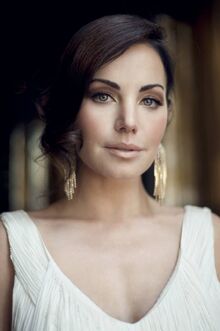 Lois Lane was funny.
Relationships
Notes
Was good friends with Emma Frost, the two met when the X-Men traveled to Metropolis, and keep in contact often.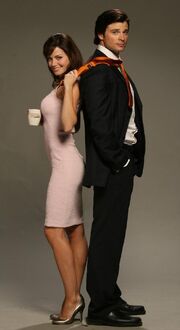 Appearances
References