"There is no weakness in forgiveness."
―Moira Xavier
Moira Ann Xavier (née Kinross) was the wife of X-Men founder Charles Xavier. Moira was also the X-Men's staff physician.
Biography
Early life
Moira Kinross was born on November 23, 1966 to Deborah and Philip Kinross, an aircraft pilot. Though her parents divorced at the age of twelve. In high school, Moira proved to be a brilliant student of the biological sciences and selected genetics as her specialty. After graduation, Moira decided to attend Oxford University.
College
As a college student she met Charles Xavier, who was working toward a doctorate at the university. The two fell in love with each other immediately and their romance lasted for years. Charles and Moira also became friends with fellow students Max Eisenhardt and his girlfriend Magda, often accompanying each other on study double dates. She and Charles planned to marry after finding out that she was pregnant.
Personality and traits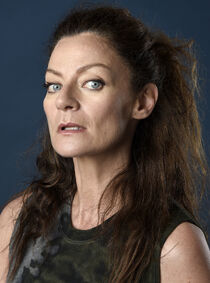 "You and I have the exact amount of experience being parents."
―Moira Xavier to Charles Xavier, while crossing her fingers
Relationships
Powers and Abilities
Powers
Abilities
Master Geneticist: Moira Xavier was a gifted geneticist and possessed special expertise in the study of superhumanly powerful mutants.
Appearances
Notes and references