Invisible Woman
Biographical information
Name

Susan Storm Richards

Born
Birthplace
Nicknames

Sue
Susie

Physical description
Species
Gender
Height

5'4½"

Hair Color

Blonde

Eye Color

Blue

Family information
Family

Franklin Storm (father)
Mary Storm (mother)
Johnny Storm (brother)
Reed Richards (husband)
Franklin Richards (son)
Valeria Richards (daughter)


Statistical information

Occupation

Adventurer, former substitute teacher; former actress, fashion model, student

Education

High School Graduate; student at State University and Metro University

Affiliation
"Family isn't just who you're related to--It's who cares for you and takes care of you."
―Susan Storm
Biography
Early life
Susan Storm was born on February 26, 1986 in Glenville, Long Island, New York. The eldest child of renowned scientist Dr. Franklin Storm, Sue Storm inherited her father's genius. Following her father into physics, at age twelve she built a sugar-powered rocket and accidentally destroyed her father's car, after which she changed her focus to "inner space" biology. Since early high school, she was one of the prodigies studying and working at the Baxter Building, a midtown Manhattan government research lab. Romancing brilliant Baxter Building classmate Reed Richards, Sue became a formidable scientist in her own right, earning four doctorates in bio-chemical sciences. Her brother Johnny also spent his formative years at the Baxter Building labs, but he rebelliously resisted taking advantage of this opportunity to learn.
Personality and traits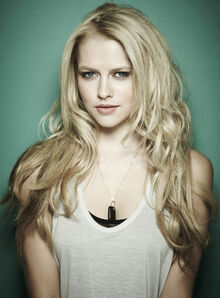 "I never rule anything out, I just follow where I'm lead."
―Susan Storm Richards
Was a cheerleader in high school.
Relationships
Powers and Abilities
The Invisible Woman received her powers when cosmic rays bombarded her body. The Invisible Woman's powers represent the element of air.
Powers
Abilities
? Sue had some modest experience and ability in the field of acting, and had recently taken up teaching. She was a capable unarmed combatant. She was renowned for her changing hairstyles (once said to match the Wasp's changing costumes).
Weaknesses
? The size, number, and movements of these objects were limited only by her powers of concentration. Once she stopped concentrating on an object, it ceased to exist.
Appearances
Notes and references